I'm a city girl at heart, loving the life of the doorman and handyman a buzzer away.  In the city there was no grass to mow. No trash cans to pull down to the end of the driveway. Gardening was done in containers on the deck with the dirt and plants delivered by kind deliverymen who were even kinder with a large tip. And when it was too cold to garden, we didn't have to worry about shoveling snow or warming up the car. Our chariots were stored in the condominium garage and appeared when summoned with the heater blasting and door open waiting our arrival.
One of the most difficult transitions into suburban living was limited food delivery to our remote abode. Unfortunately for everyone involved, I needed to expand my culinary talents beyond the preparation of Kraft Mac & Cheese dinner and Pop-tarts.
My husband decided he'd be at my side, assisting me in this cooking journey and presented me with the "White House Cook Book." I guess if Jackie O ate dinners made from recipes in this book, it must be good, but wasn't she smoking like a chimney and drinking gin and tonics for cocktail hour(S) every night before the meals were presented to her? Ode to Camelot. Chef Verdon didn't include this tidbit in his recipes.
The only recipe I mastered in the book after several months of trial and error was, "Poularde Francillon," which my six and three-year old soon referred to as "White House Chicken," as in "Do we have to have White House Chicken again? I'm soooo sick of it!"  Yet I never grew tired of the cuisine, mainly because it called for a pint of champagne which left half bottle for me to enjoy as I prepared la cuisine. I also applauded the rich flavor from the 3 cups of heavy cream and 1/2 cup melted butter since Atkins was the diet du jour for me back then.
My supportive husband decided I might need more help in the kitchen, so he presented me with "Le Cordon Bleu At Home." Now
I could learn classic French Cuisine from the masters. All I had to do was complete the course by learning over 70 "simple techniques." I mastered scrambled eggs but after many meals of "oeufs brouilles," we soon couldn't stand the sight of eggs, I particularly disliked the ouefs since they didn't call for any ingredients from the Champagne region.
Submitting to the young uns' demands, my husband ordered food from the local Chinese take out. I'm not sure why it was called Chinese but after one bite knew why it was called take out since it was so vile we had to immediately "take out" the food to the trash!
Not one to deny our children good food, my husband's solution was delivered to me by Amazon several days later.
However, many of the recipes were impossible to replicate since I couldn't find ingredients like hairy melon, bird's nests and shark's fins at Stop & Shop.
Due to the dearth of ingredients, my husband quickly changed gear and decided to trade in the wok for a pasta rolling machine. This time Gourmet Magazine's Ruth Reichl joined me in the kitchen.
Her stay was short-lived when my husband discovered her recipe for stuffed breast of veal called for matzoh instead of the traditional Italian stale bread. Obviously her food was ridiculous! I personally grieved Ruth's departure since many of her recipes called for vino.
Not to fret, Little Italy was soon replicated in my 80's style mustard yellow kitchen, (upgrading the kitchen was on our to-do list) when the "Bible of authentic Italian cooking" was delivered.  Soon, I discovered why it was called the "Bible."
I needed God to intervene when it came to Rotlolo di Pasta, which is hand rolled pasta rolled around stuffing,  then wrapped in a clothe, secured by a string and poached. Only deep prayer and the intervention of God was the way I was going to successfully cook anything from this book.
The culinary world is always evolving and we soon forget the Bible. My husband decided I needed to modernize my entrees . Thanks to another Amazon 'gift,' I was to become the guru of wheat juice which incidentally has more carbohydrates than Chef Verdon's White House recipes full butter and cream and sadly none of the wine.
Although the vegan period was short-lived, it served a purpose when I served fresh beet and garlic juice. Although no one could drink it, the juice reminded my husband of a time not so long ago when he enjoyed borscht in New York City. Honestly, I hate beets. They have always triggered my gag reflex. So I wasn't too keen on developing a palatable borscht.  Yet once again my knight in shining armor came to the rescue with yet another gift. We no longer would miss the Russian Tea Room, thanks, honey.
I guess the Russian cuisine ran it's course after my husband grew tired of listening to my gagging at the dinner table.
By this point my significant other discovered the Food Network and decided I needed to kick it up a notch. Bam!  Just like that the UPS man delivered a cooking book by the Food Network's Giada De Laurentiis. My husband suddenly developed an insatiable appetite for her style of Italian cuisine. He generously invited me to watch an episode with him so I could emulate her skills.  Boy she had no use for the cleaver with all the cleavage she exposed. Giada was meat eater. Maybe that's what turned me vegan. The book was returned.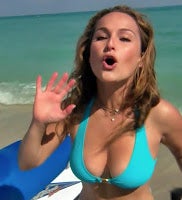 Some say,  "the way to a man's heart is through his stomach."I guess this explains why I'm a widow.
Copyright 2017. All rights reserved.